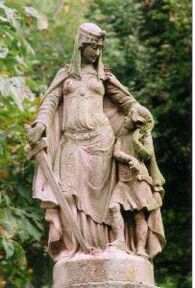 Redda, Queen of North Bessex (?878-spring 945) was Queen of North Bessex as the wife of Ecbrit I . She served as regent of North Bessex upon his death in 902 until her son, Ecbrit II came of age. She is regarded by historians of "a most distinguishable character, headstrong and with much willpower to have controlled a kingdom without the use of her husband."
Redda is suspected to have been born in 878, the daughter of a Saxon nobleman.
Marriage & Issue
Edit
Redda married Ecbrit I of North Bessex in 898. He was sixteen years her senior. The couple welcomed their only son, Ecbrit II in 900.
Redda managed the kingdom of North Bessex efficiently until Ecbrit became king in 918. She retired to a monastery soon afterwards. She died in spring of 942.
Ad blocker interference detected!
Wikia is a free-to-use site that makes money from advertising. We have a modified experience for viewers using ad blockers

Wikia is not accessible if you've made further modifications. Remove the custom ad blocker rule(s) and the page will load as expected.